What Exactly is an Adirondack Chair?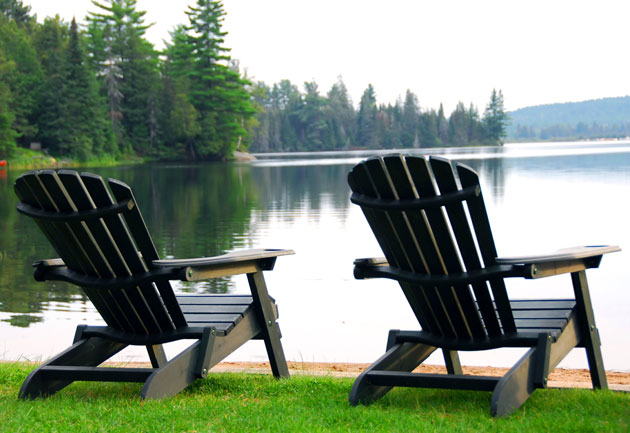 A plastic adirondack chair is commonly known as one of the most popular styles of outdoor chairs. These fashionable and also eco-friendly chairs offer the ideal balance of style and comfort, which a definite emphasis on the comfort of the user. However, for those adirondack chair novices, what should you be looking for when you buy one?
Adirondack Chair: History
The adirondack chair is named after the Adirondack Mountains which are located in northeast New York – this popular tourist destination has a peak elevation of 5,344 feet! The origin story goes; amateur woodworker Thomas Lee created the first prototype back in 1903 – he was on holiday with his family in the Adirondacks when he found a rather annoying problem, a lack of seating options. With some family members being forced to stand uncomfortably, Lee ended up designing his own chair as a solution.
It was soon discovered however, that traditional chairs didn't fare too well on the mountainous terrain of the Adirondacks. Due to the sloped nature of the land, chairs were either being tilted forward or backwards, which resulted in poor balance and discomfort – not the ideal solution. Until Lee, there was no solution for the uneven terrain; Lee designed a chair with the focus being on making it comfortable and balanced when placed on the uneven terrain of the Adirondacks.
After many countless hours of hard work, Lee developed a chair with an angled seat and angled back. Both the seat and the back sloped back in order to accommodate the uneven terrain of the Adirondacks. With a 25-35 degree angled back slope, the chair could be placed on an uneven bit of terrain in order to create a more balanced and stable seating area. This later became known as the adirondack chair.
You might be intrigued to learn, Lee didn't receive the full credit for his work. After the creation of the first prototype, he took the chair to a carpenter in upstate New York called Harry Bunnell. Lee asked Bunnell to recreate the chair for him, but Bunnell went behind Lee's back to sneakily file a patent for the chair under a different design name. Whilst Bunnell received the patent for chair's design, most people today will still recognise it as the adirondack chair.
The Benefits
With the unique design, an adirondack chair is able to offer several benefits of note. Firstly, it is important to remember that the chair was initially designed to be used with uneven terrain. So, if you need some outdoor furniture for a sloped environment, there's quite simply no better choice than an adirondack chair – with the sloped seat and back it is able to offer a superior level of comfort and stability.
However, regardless of whether it is placed on a flat or sloped surface, the adirondack chair is arguably one of the most comfortable outdoor seating choices on the market. It's also good for your health – with the angled design, the adirondack chair eases pressure on the spine, whilst subsequently reducing the risk of back pain and other related issues.
Choosing a Chair
There are several things to consider when choosing an adirondack chair for your patio or outdoor living space. Firstly, you need to know what material it is made out of; the original was made from natural hardwood – whereas today they can be made from recycled plastic. This means that you will also be doing your bit for saving the environment by purchasing a recycled plastic adirondack chair, as they are made from plastics that would otherwise be destined for the landfill or our oceans.
You should also consider the colour of the chair, it should match with your other pieces of outdoor furniture – the colours should flow cohesively with the rest of your decor. Plastic adirondack chairs can come in virtually any colour, so finding one to fit with your colour scheme shouldn't be an issue.
The adirondack chair is just one of many outdoor seating options available on the market, but it is unrivalled for sloped landscapes thanks to its unique angled design.